No more mysterious phone hang-ups, sudden unexplained "errands" or suspicious sexy emails that your lover claims to know nothing about…
"Keep Reading to See How an Ex US Army Intelligence Insider Exposes
The 8 "Back-Alley" Techniques and 6 Ultra Low-Profile Tools
You Need to Keep You Safely Shielded While You Unearth Your Lover's
Hidden Comings and Goings Leaving No Doubt Whatsoever as to the
Guilt (or Innocence) of Anyone You May Have Reason to Mistrust"
This EXCLUSIVE information will help

Arm you with the protection you need to fight for your rights in the event of a nasty split (and they're all nasty) keeping you secure and restoring you to a state of wholeness moving forward to the life you deserve.



Conquer devastating fear that keeps you locked in anxiety. This book will help you defeat powerlessness, and guide you into taking positive action to find out the truth once and for all


Give you a fresh perspective based on facts, not endless "what-if" thoughts swirling through your head every time your lover is out of sight.


Re-vision the way you approach new and current relationships to help you understand how you may be unconsciously feeding the suspicions currently eating away at your peace of mind.


Create an "Overflow" Mindset that will not allow you to enter into relationships from neediness giving you the confidence to instantly reject emotion sucking vampires, and keep them from preying on your forgiving nature.


Stop allowing your trusting heart to be abused!
From: Someone Who Cares
In South Beach, Miami
Thursday, 9:45 am
Dear Broken-Hearted Friend,
Make no mistake, you're about to enter a world that will forever change you.
So before you go past the point of no return by ordering my explicit report, "How To Catch A Cheating Lover", you'll be required to confirm that you've read every word of this letter, and that you accept full responsibility for any actions you take as a result of the information I'm about to disclose.
There's no negotiating on this.
This is not kid stuff. It's not for amateurs. And at the risk of losing you, I'm going to say it one more time — I'm not responsible for any actions you take.
Now that we've got that settled, let's be frank about what's going on in your life, and why you're reading this. You have strong suspicions that someone you love has betrayed you. You've picked up some clues that things just don't add up.

More to the point, you're living every day feeling like the person who means the most to you in the entire world has kicked you right square in the stomach.

Worse still, if your suspicions are correct the person you've given your sacred trust to is laughing in someone else's arms this very moment.

Possibly with someone you've called "friend."

And though you may wish with all your heart this had never happened — and know you don't deserve any of it — the sad truth is you can only go one of two ways from here

Through the fire,
or down into the quicksand

The fire of facing what's become of your life and choosing to take control — or the quicksand of waiting for your lover to come back and throw a few crumbs of affection your way until they decide to leave for good.

You've got a hell of a choice. Probably wouldn't wish it on your worst enemy but there it is.

Either way, there's no going back to "how things used to be." Because once the genie of suspicion is out of the bottle, you'll never be able to look at your lover in the same way again.

How could you?

I'm not here to judge you. Even if you decide to take back your unfaithful lover the choice is yours and yours alone. But you owe it to yourself to know the truth.

No one else can tell you whether it's better to leave or stay, but you need to know there are some simple things you can do to safely protect yourself while you gather crucial information to make the decision that's best for you.
For instance did you know?
| | |
| --- | --- |
| | A relatively common household item can, beyond the shadow of a doubt if used properly at the right time tell if your spouse has been cheating? And you can easily and discreetly document that proof into hard legal evidence. |
| | There are ways of tracking your lover from your computer-every minute of the day-that are more effective than high-priced private investigators...for a mere fraction of the cost. |
| | Thousands of the computer "spy tools" on the market not only don't work-they open you up to all kinds of risk. Find out which ones do work and are nearly undetectable by even the most sophisticated security experts. |
| | There are several unconscious ways that liars reveal themselves. They're called "tells" by police investigators and high stakes poker players. |
| | Employ these easy-to-use techniques — then use a foolproof tactic to let them prove right in front of your eyes whether or not they're telling the truth. This tactic is almost unbeatable if you can keep your cool long enough. (Don't worry, I'll show you how to maintain the ice-water nerves to pull this off, even if you're afraid of your own shadow.) |
Urgent Update:

Hundreds of companies currently offer spyware on the Internet. The vast majority of this software is absolute junk that can easily be detected by common spyware detectors.

Get the inside scoop on undetectable and easily obtainable tools when you order your instant download PDF "How to Catch a Cheating Lover"

This is the exact method I used to help a close friend from Down Under "get the goods" on his cheating spouse.

Find out how when you order your copy of "How to Catch a Cheating Lover" Today!

Yes! I want my copy of How to "Catch a Cheating Lover"
Be advised: Just knowing about these tactics isn't enough — if you don't know how to use them in the right way, you can easily ruin your chance at peace of mind, possibly risking physical or financial danger. Not to mention real humiliation.
I don't know about you, but I can't think of anything more degrading than someone bald-faced lying to me about their betrayal — swearing, "It's not true," and making me think I'm the crazy one
Only to find out after they've thrown you aside
that you were right the whole time
It's a sickening thought.
But it's also the most likely outcome unless you're psychologically, emotionally and spiritually prepared. Look, you're defending yourself here and if you have children involved the stakes are that much higher.
Follow the step-by-step guidelines laid out in your personal copy of How to Catch a Cheating Lover, and equip yourself to beat even the most brazen liars at their own game. Something genuinely decent people don't often win.
Not only does this instantly downloadable PDF report carefully walk you through the 3 key phases of safely escaping toxic relationships that destroy your precious self-esteem
You also receive an exclusive roadmap designed
to make sure you don't make any of the most common
(possibly devastating) mis-steps at any point along the way
Your detailed plan includes proven techniques to help you

Cool your emotions with a vital personal promise that helps you stay level-headed at every difficult step along the way.

Keep control by easily deciding if your gut feeling is a valid warning sign, or has another more innocent explanation.

Provide you with the necessary reality check to decide the best "next step" for your unique circumstances.
If you have any doubt about your suspicions, or if you're like most people and need a sense of closure to move forward with your life or you have valuable property, paternity or financial considerations at stake... you owe it to your own self-respect to bring things to a proper conclusion.
If you're overly squeamish or have delicate sensibilities that are easily offended, please understand
This hard-hitting report is not for everyone
Unfortunately I had to take on some very unpleasant subjects.
I've developed this unique guide from my deep experience as an intelligence officer in the US Army.
That means you gain instant access to the same stealth tactics I've adapted from my extensive knowledge of interrogation and real world training in the shadowy art of indirect information gathering used by thousands of folks (like my friend in New Zealand) to rip away the deceit and betrayal you've endured.
You'll immediately discover closely protected "insider" strategies like:
| | |
| --- | --- |
| | A nearly fool-proof way to put your mind at ease once-and-for-all if you suspect your partner is cheating on you. And yes, it can be performed with an item you may just have lying around your house right now. |
| | The exact technique for asking questions without raising suspicion that keeps your lover from becoming defensive potentially driving them to even greater secrecy. |
| | How to read which changes in behavior are innocent and which ones mean you're likely headed for heartache. |
| | The specific "online" behaviors and activities that are dead-to-rights giveaways that your lover is cyber cheating. |
| | The one sure screw-up that cheaters never fail to make and how to flush them out with certainty every time they do it. |
Plus The Ultimate Stealth Plan For
Covering Your Tracks And A List Of
Sure-Fire Weapons To Blow The Lid Off
The Lies Keeping You From The Truth
And that's only a sample of what's in store for you when you download this provocative report.
Instantly tap into a wealth of strategies, tips and proven techniques that provide you with a blueprint for conducting a quick under-the-radar, fact-finding mission to get the answers you need to make an informed decision.
Easily find out Who With, For How Long, When, and Where you've been victimized and more importantly, how to reclaim your inner strength and peace of mind when you receive your copy of "How to Catch a Cheating Lover."
Here's a partial list of the powerful tools you get:
| | |
| --- | --- |
| | Your personal stealth battle-plan, geared to your specific circumstances using resources you (and you alone) control and have knowledge of. |
| | A secret arsenal of easy-to-attain weapons enabling you to conduct a safe, virtually untraceable investigation using many of the tools high-priced private investigators don't want you to know about. |
| | Inexpensive ways to trace anyone's whereabouts and computer habits that if collected properly can be used as hard evidence in your dispute. |
| | A fool-proof technique for following almost any paper trail, no matter how carefully covered up, that will leave the cheater no choice but to 'fess up. |
How much longer can you afford to take the mental strain of another's infidelity?
Perhaps it's time you took a personal inventory
Are you truly available when and where you're needed?
Or do you sometimes let the stress of constant heartache and uncertainty dictate how you spend your precious time?
If you've read this far, it's because you recognize that never-ending suspicion and the ache of unmet needs are taking a harsh toll on your life. But you've been afraid to trust your instincts. And so your life remains unsettled.
It doesn't matter what's happened in the past. What's important is that you don't give up now. Think about what you stand to lose. Do you want your next years to be a replay of what you're feeling right now?
Even more important think about all you stand to gain. Surely a part of you desperately wants to be free of this needless burden.
Yet another part of you still has doubts. You may feel you'll never have the kind of love you deserve.
Still one more part of you understands the risk of doing nothing is far too dangerous, especially when you consider what's at stake.
There's no need for you to do this alone. My New Zealand friend knew that. He chose to quietly leave his unfaithful wife.
Now you have a choice too.
Follow the link to your secure order page. You'll be happy you did.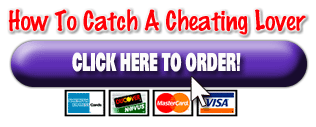 After you complete your order, if you are not satisfied for any reason, you are entitled to a 100% full refund. Simply tell us you are not satisfied any time within the next 60 days and we will give you a prompt and courteous refund within one business day — no questions asked.
Now, how much would you pay for this kind of peace of mind? A licensed private detective will cost you hundreds of dollars each day. With no guarantee of results.
You'll pay far less than that, though.
You see, I've been giving this some thought. Believe it or not, I make an extremely comfortable living. And though I'm still a confirmed techno-geek, I'm no longer in the "snooping" business.
But it would be irresponsible of me to keep this information locked away, when it can help someone in pain.
So I'm offering this report for just $19.95. I don't see the point in gouging someone who's just trying to find some answers.
I can personally promise you the information in this report will allow you to catch any cheating lover in a very short period of time. If not, I'll be happy to refund all of your money — no questions asked.
And I want to remove all the risk I can. So you'll have a full 60 days to put this into action. If you don't get the results you're looking for, or if you just decide you'd rather let things continue like they are now — simply ask, and you'll receive your full refund.
To A Better Future,

"SWC"
(Someone Who Cares)
PS. If you're wondering — yes my full name is on the title page of the report. You'll understand if I choose to keep it from the general public. And I respect your privacy too. I'll never share your information with anyone.
PPS. Whatever you do, remember — someone else's vile stupidity has nothing to do with your value as a person. Their only power is what you give them.
Reclaim your life today. Don't wait.